Interview: Lisa Maxwell and Craig Kelly

http://www.ok.co.uk/lifestyle/view/50823/Interview-Lisa-Maxwell-and-Craig-Kelly-

The 'Chicken' stars talk about their new play, Loose Women and leap year questions at Brasserie Blanc...

Tuesday 26 Jun 2012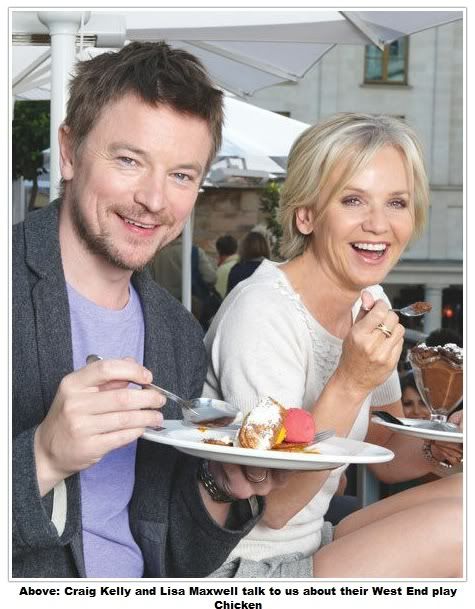 THEY play a down-trodden couple in turmoil on stage, but thankfully off stage Loose Women star Lisa Maxwell and former Coronation Street actor Craig Kelly are more than loved-up with their real-life partners – so much so that after 15 years, Lisa's finally getting married (following her own leap year proposal), while Craig proposed to his girlfriend on holiday on a Spanish island, where they returned a year later to tie the knot!

But more of that anon – for now, it's back to the day job for our hard-working thesps, as they prepare for their starring roles in a month-long West End run of brand new play Chicken.

Set in the Bronx, it's a gritty comedy-drama with Craig and Lisa playing a married couple living in a cramped apartment with a baby on the way – and a sickly rooster that they're grooming for an illegal cockfight!

So, how does 48-year-old Lisa, last seen acting in The Bill, feel about her first straight theatre role in 12 years?

'I'm absolutely terrified!' she reveals. 'I didn't need my arm twisting to do this play – but now that we're in rehearsals, I can't help thinking, have I made a terrible mistake?'

As for Craig, who found overnight fame in Channel 4's ground-breaking Queer As Folk, one of the biggest challenges is the New York accent.

'We've got a dialect coach, but I'm a massive fan of American movies anyway,' says 41-year-old Craig, 'so I've been watching loads of Scorsese films – and lots of The Sopranos!'

With the curtain going up this week, it's a miracle we found any time to drag them away from their punishing rehearsal schedule, but the promise of lunch at the recently opened Brasserie Blanc, on the top floor of Covent Garden's stunning Opera Terrace, probably helped.

Over some choice dishes, our guests shared a few more wedding plan secrets, memories of Coronation Street – and how to rub up Ringo Starr the wrong way…

Lisa, we're more used to seeing you gossiping on Loose Women rather than giving your all on stage in front of a live audience. What's made you do this play?

While it's true that I'm terrified, it's in a way I needed to be terrified!

I've become very comfy with my part-time TV job which finishes at half past one, but I'm an actor, and I've been missing that.

I'm also a mum and someone's fiancée, so I've got lots of other things I have to do, and doing the kind of work I love means I have to sacrifice something else.

Why haven't you gone for an acting job on television?

I've had the opportunity to be on soaps since leaving The Bill, but I can't do it.

I missed years of my daughter Beau, who's now 12, growing up because of the work schedule on The Bill, so I don't want to do that again.

Timing wise, this theatre role couldn't be better.

It's just for a month, and Beau will be on her school holidays, so she can come up to London and be with me in the daytime, which is lovely.

As for the job itself, it gets all my creative juices flowing.

Craig, what's the play about?

It's about a group of friends and neighbours and their struggle to survive in the Bronx.

When we start the play, Lisa's character Lina is six months pregnant and her husband Wendall's best mate Floyd has been loafing on their couch in their tiny apartment for three months, and he's overstayed his welcome.

Basically, Wendall – who I play – is trying to move Floyd out of their flat by arranging a cock fight.

Floyd can train the bird, and if they win, Floyd will be able to afford to move out and get his own place.

What has been the most challenging aspect of your roles?

Lisa: Finding every single beat in what is a very complicated character, while retaining an authentic New York accent – because when I have to get passionate on stage, I get properly emotional, so I'll have to make sure I maintain the accent.

I'm really hard on myself and what I don't want is for people not to believe in my character, because my accent is somewhere north of Watford!

Craig: I can't give too much away, but Wendall isn't very well – he's an unhealthy guy – for which purpose I've lost 11 pounds in about five weeks.

I want to lose another six pounds by the time we open.

I've been on a diet on the last six weeks, which is called the Dukan Diet, which is basically stripping your body of fats and eating loads of protein.

It seems to be doing the trick!

The play's very much about life in the city – are you both urban creatures?

Lisa: These characters are very direct, which is what appealed to me about the play, as coming from the Elephant and Castle in south London, my sense of humour is very in your face.

I'm an urban girl – but not any more, I live in the Cotswolds, which is a bit like Old England.

It's like the old Cockney London as I remember it.

I'm not really a Cockney, but if I drop enough Hs maybe that warrants me as one!

Craig: When I came to London from the North West when I was 18 to go to drama school, I simply fell in love with the place.

I've been here ever since.

It's a great city, but expensive.

Lytham St Annes in Lancashire, where I come from, is nice and quiet, a great place to recharge the batteries.

And I tend to get recognised much more there!

Lisa, as you revealed on Loose Women the next day, you proposed to Paul Jessup, your partner of 15 years, on February 29. Was he surprised?

I got him in a headlock!

He was half expecting it, because I kept hinting about it for about two weeks, just in case he said no!

So he was winding me up all day.

Every time I said something he'd say: 'What was that? Did you say there was a curry for me?'

Which meant, he was expecting me to say: 'Will you marry me?'

So, when are you getting married?

There's no date yet, but we will get married!

We did have a date this summer, which we were playing with, but because we want it to be an outdoor event, it's become tricky.

It looks as though this year is running away from us.

Where will you get married?

Our local church in the Cotswolds.

It'll be a friendly, informal event.

When you've been with someone for 15 years, there's very little point in me pretending that I'm some virginal bride in a sculptured white frock.

I think comfort will be the word of the day.

Paul has two best friends – Shane Richie and Adam Garcia, and either of them would be great as best man, but I don't think anyone's fighting for the job!

And I'd love my mum to give me away.

Have you said things about Paul on Loose Women that you've since regretted?

You have to be careful, as it's very easy to say absolutely anything about your private life because it's such a relaxed environment.

Paul and I made this arrangement where he wouldn't ever watch it so I could do my job properly.

That worked for a while but now it's a case of him being at the school gates and someone coming up to him and going: 'Ooh dear, did you hear what she said about you today?'

Craig, you and your wife Camilla got married in Formentera, near Ibiza, in 2009. Why did you get hitched there?

I proposed to her there, we were on holiday in Ibiza and we got the ferry to Formentera. It's breathtaking.

The wedding was a year later, it was an amazing day – that and our daughter Freda being born remain the most amazing days in my life.

What do you get recognised from most – Queer As Folk or Corrie?

I suppose I get recognised in equal measure for both.

People are very passionate about Corrie, but then again, Queer As Folk is still the big one, even after all these years.

It's got a new audience.

Younger people are watching it these days.

How did you enjoy your time on Coronation Street?
It was only for nine months, but it was a great honour to be asked to be on it.

I was already a huge fan of Corrie – I grew up watching it – which is why I did it.

I had my fair share of pinch-me moments, like meeting Bill Tarmey [who played Jack Duckworth] – I was just in awe of him, likewise William Roache [Ken Barlow].

What are your memories as a contestant on Strictly Come Dancing three years ago?

I really enjoyed it, I was in the last eight – considering I wasn't the world's best dancer, I think I did pretty well.

Flavia Cacace, my dancing partner, was brilliant; she was very professional, she pushed me, and we worked hard together.

As for the judges, my favourite was Len Goodman.

He never gave me a negative comment on air, and off air he was very supportive, a real gent.

Lisa, Loose Women is a live show – any memorable embarrassing episodes?

One of my most embarrassing moments was when Ringo Starr was a guest.

When guests come on the show, you get their biogs, and it mentioned his gorgeous wife Barbara Bach, who was a Bond girl and so on.

During the chat I remember thinking we should mention his wife, so I said: 'Ringo, you have this beautiful wife, Catherine….' and he looked at me and said in that lovely Liverpool voice: 'Well, we like to call her Barbara!'

There used to be an American actress called Catherine Bach, who was in The Dukes Of Hazzard!

He was so sweet about my mistake – but I was mortified!